Our biggest news for March and April is the launch of our beta testing program for major new features. Here's a full round-up of what we've been working on since my last blog post.
1 Beta Testing of Major New Features
As we threatened in our 2016 vision blog post, we are beginning to release major new features for beta testing before we make them standard in your DevResults site. With this change, you'll be able to log into a copy of your site and test out new features before they go live, and you can give us feedback about them while we're still polishing them up for release. We aren't doing this for every change, but we're excited to have it available for major changes and new funcitonality so we can get your feedback before the change is permanent.
We're rounding out communication on new features and functionality on three levels:
Beta Testers: Communication to users who have volunteered to test new features, so you can test it, try to break it, and give us feedback about what you like and don't like.
Advance Notice: Advance notice via email to all site owners of the change before it goes live, with related help page links.
Release Notice: The usual new feature blog post with a link from within DevResults so all users can learn about the change.
A few weeks ago, we created a Google Group to handle the Advance Notice group and start to round up Beta Testers. If you are a site owner, you should have gotten an email letting you know about this. If you didn't, please check your Spam folder.
If you didn't get the email or aren't a site owner, you can opt in to the Advance Notice or Beta Testers groups here. We will never spam you and will only send you the group notices you care about.
Note: We are also starting a forum for getting your input on upcoming features. If being able to enter disaggregated targets matters to you, please check out our Design Input Forum post and give us your input! (If you don't have an account for our helpdesk, please use the same email that you use for your DevResults access.)
2 Reporting Cycles: Beta Testing Now Live!
As part of our roll-out of the Beta Tester group, we have released our first major new feature of 2016 for beta testing: reporting cycles. For those of you who have reporting periods of different frequencies--for example, quarterly and annually--you can now have far greater control over which activities report indicators on which frequency. This adjusts the direct entry data entry grids/templates and calculations for data table indicators.
There's far more information, including a short introductory video and info on how to log into your beta testing site, available in our new Beta Testing forum on our help ticketing system. If you're interested, please go check out that post, test out your beta environment, and let us know what you think. This is your chance to help shape this feature before we release it to all DevResults sites!
3 Page Rewrite: Reporting Periods
We've been slowly overhauling and rewriting many pages on the site for better performance, as when we released the new Activities and Indicators Index pages in December 2015. Small but noteworthy, we have updated the Reporting Periods Index page to reflect these changes. It now has the same search, sort, and export-ability of the other new index pages: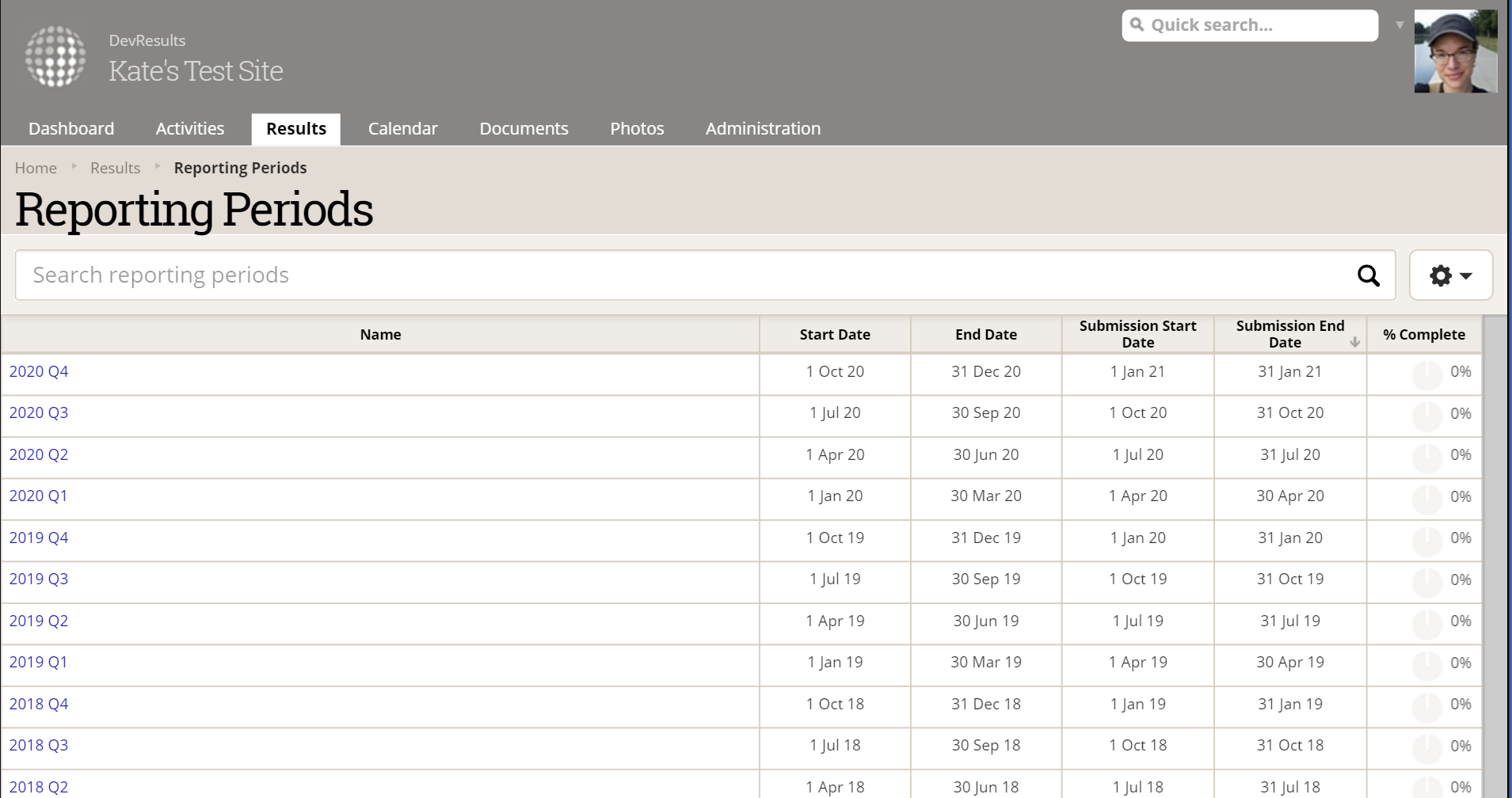 We also rewrote the Activity Forms tab and the Tag Details pages (these don't look different but should perform a bit faster).
4 Behind the Scenes Changes
Historically, releasing new features would take your site down for about 10-15 minutes. We tried to time this during an interval when no clients had business hours, but at this point we cover enough of the globe that that is impossible. So we instead spent some time optimizing that refresh process, which now runs in under 2 minutes. We are still exploring ways to trim this down even further, but this should mean maintenance windows should have little to no impact on all clients.
5 Default Dashboard Widgets
We've noticed a lot more clients removing the budget widgets and using the "My" widgets ("My Bookmarked Activities", "My Bookmarked Indicators", and "My Checklist Tasks"), so we've removed the budget widgets and added those widgets as a default for all new users: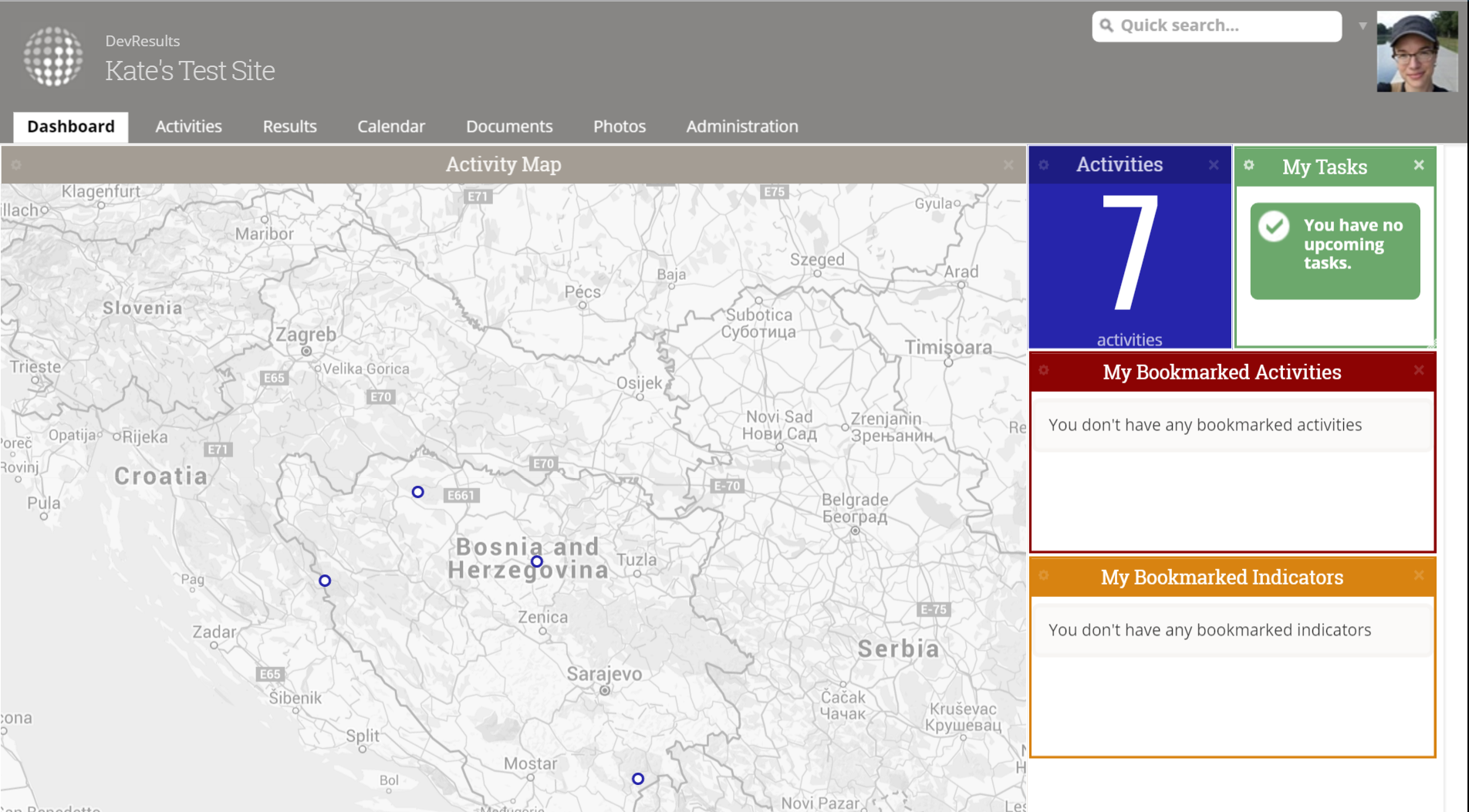 6 More Diagnostics
In our continuing quest to help site administrators catch indicator configuration issues, we've added two new Indicator diagnostics. These appear both as on-screen warnings in the Indicator's Definition tab AND as new categories in the Diagnostics->Indicators page:
For formula indicators, you'll see a warning when you have no formula defined.
For data table indicators, you'll see a warning when you've assigned a disaggregation to the indicator that doesn't exist in the data table.
What are we working on now?
Bulk import for new indicators
The live release of Reporting Cycles (once we get feedback from beta testers)
Updates to the Indicator Targets vs. Actuals graph
Rewrite of the enterprise data submission process